Since 1957, the New Britain Civic Association—a 501c3 charity—has owned and operated Covered Bridge Park, a 14.7 acre park open to the public. Tucked away along Pine Run Creek in New Britain Borough, the park features a playground, a picnic pavilion, a soccer/baseball field, a gazebo and a pond. The park is a focal point for outdoor recreation for area residents. Covered Bridge Park is really a regional Park bounded by New Britain Township, Doylestown Township and New Britain Borough.
Following the completion of the $200,000 Destination Peace Valley Bike and Hike trail connecting Doylestown with Peace Valley Park and Lake Galena (which passes through the Covered Bridge Park) the park has seen an uptick in visitors.
The picnic pavilion is available to rent for parties, reunions, and other special events. To inquire about renting the pavilion, please call our president, David Holewinski, at (215) 407-7104. The cost is $100 for non-members and $50 for members, and rentals are on a first come, first served basis.  Electricity is included, and we only ask that renters leave the pavilion and surrounding area the way they found it. To get the discounted rental fee, consider joining the civic association.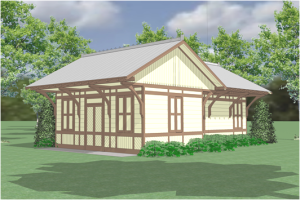 The new equipment storage building at Covered Bridge Park was completed and dedicated in 2016. The new building is a replica of the New Britain train station that was destroyed by a fire. The building is a beautiful addition to the park and was made possible by the generosity of many people who donated money and services. We also had a very dedicated group of volunteers who spend hundreds of hours on the project.
We are still accepting donations to help defray some of the costs. Gifts of any size are greatly appreciated.
2 ways to Donate - by Mail or Online
Mail donations payable to New Britain Civic Association to:
New Britain Civic Association
Attn: New Building Fund
PO Box 5124
New Britain, PA 18901